Coaching is a way to form academic communities on Khan Academy. Coaches have viewing access of all of user's Khan Academy data.
If a user is coach, they could:
Manage their students,
View their student's progress,
Map student's skill progress,
Observe their student's progress in a grid,
Observe when students are active in Khan Academy,
See real time updates while students earn energy points.
Make recommendations (skills) to their student.
If a user is being coached, they could:
Link to their coach's profile,
Perform tasks that the coach has given the user.
Many Khan Academy users will use coaching to help support each other while learning. Some users have actually created a new account in order to coach themselves because coaches have access to improved data about a student's progression.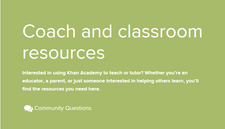 Ad blocker interference detected!
Wikia is a free-to-use site that makes money from advertising. We have a modified experience for viewers using ad blockers

Wikia is not accessible if you've made further modifications. Remove the custom ad blocker rule(s) and the page will load as expected.