The Comparing two-digit numbers-old exercise appeared under the Early math Math Mission but was removed. This exercise involves practicing identifying two digit numbers and comparing them.
Types of Problems
There are three types of problems in this exercise:
Comparing two numbers: This type of problem takes two different numbers and asks users to identify which one is larger than the other.
Ordering numbers from least to greatest: This type of problem gives the user a set of numbers

and asks them to order them from least to greatest in size.
Comparing numbers in terms of less than or more than: This type of gives users a set of numbers and asks them to identify which is larger of smaller than the given standard.
Strategies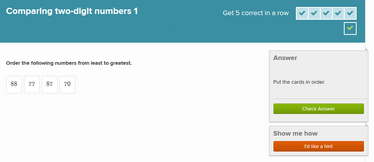 This problem is easy to get both accuracy and speed badges since the problem involved has fairly small numbers.
Ad blocker interference detected!
Wikia is a free-to-use site that makes money from advertising. We have a modified experience for viewers using ad blockers

Wikia is not accessible if you've made further modifications. Remove the custom ad blocker rule(s) and the page will load as expected.