The Drawing angles exercise is in the 4th grade (U.S.) Math Mission. This exercise introduces users to drawing angels with a protractor.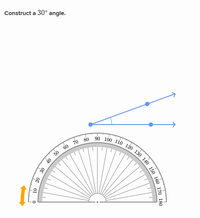 Types of Problems
There is one type of problem in this exercise.
Drawing angles with a protractor: Users are given a certain angle degree and asked to shape it with a protractor.
Strategies
Since this is a fairly simple exercise, user can try to get speed badges from it.
Remember how to use a protractor and if user gets stuck, they can a video!
Real-life Applications
Engineers and architects use angles for designs, roads, buildings and sporting facilities.
Athletes use angles to enhance their performance.
Carpenters use angles to make chairs, tables and sofas.
Artists use their knowledge of angles to sketch portraits and paintings.
Ad blocker interference detected!
Wikia is a free-to-use site that makes money from advertising. We have a modified experience for viewers using ad blockers

Wikia is not accessible if you've made further modifications. Remove the custom ad blocker rule(s) and the page will load as expected.