The
Geometry Math Mission
was a set of skills on
Khan Academy
, but got renamed to
High school geometry Math Mission
. This mission consisted of foundation material and many topics.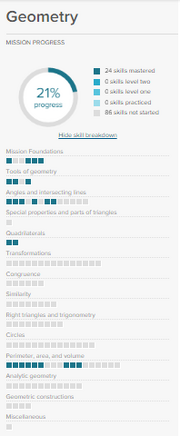 Mission Specifics
Mission Foundations
Tools of geometry
Angles and intersecting lines
Congruence
Similarity
Right triangles and trigonometry
Perimeter, area, and volume
Circles
Special properties and parts of triangles
Quadrilaterals
Transformations
Analytic geometry
Geometric constructions
Users can view other Math Missions here.
Ad blocker interference detected!
Wikia is a free-to-use site that makes money from advertising. We have a modified experience for viewers using ad blockers

Wikia is not accessible if you've made further modifications. Remove the custom ad blocker rule(s) and the page will load as expected.