Is Sal
Description
Be Salman Khan
Details
Type
Energy point(s) awarded

100,000,000

Status
Unique
Disclosed?
Repeating?
Is Sal is a Black Hole badge. To earn it, the user has to be Salman Khan – the founder of Khan Academy. Sal exclusively received 100,000,000 energy points as the owner of the Is Sal badge. The badge can be found here on Khan Academy.
Trivia
Unfortunately, it's not possible for other users to receive this badge by simply changing their username and their avatar to match Sal's.
As the name states, it's clear that the only user who can acquire this badge is Salman Khan himself.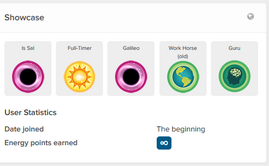 Notable person with this badge
Sal is the only user with this badge.
Ad blocker interference detected!
Wikia is a free-to-use site that makes money from advertising. We have a modified experience for viewers using ad blockers

Wikia is not accessible if you've made further modifications. Remove the custom ad blocker rule(s) and the page will load as expected.