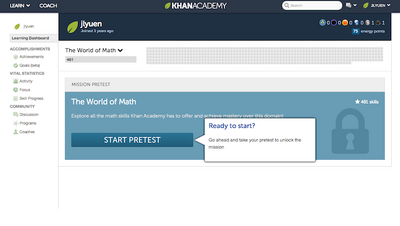 The Math Pretest was a feature on Khan Academy. The user needed to complete the test on the Learning Dashboard after creating an account. After completion they earned the Math Pretest Champion badge and Khan Academy would make recommendations on the skills they needed to learn. The pretest decided the levels of the user's skills (not started, Practiced, Level 1, Level 2, and Mastered) Some of the skills would then appear in a mastery challenge. This feature was removed in Summer 2014.
Ad blocker interference detected!
Wikia is a free-to-use site that makes money from advertising. We have a modified experience for viewers using ad blockers

Wikia is not accessible if you've made further modifications. Remove the custom ad blocker rule(s) and the page will load as expected.