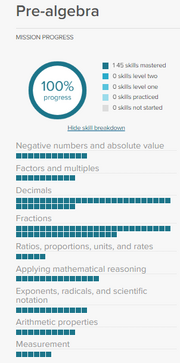 The Pre-algebra Math Mission is a set of skills on Khan Academy. This mission consists of foundational material and then proceeds into many topics.
Mission Specifics
Negative numbers and absolute value
Factors and multiples
Decimals
Fractions
Ratios, proportions, units, and rates
Applying mathematical reasoning
Exponents, radicals, and scientific notation
Arithmetic properties
Measurement
Users can view the other Math Missions here.
Ad blocker interference detected!
Wikia is a free-to-use site that makes money from advertising. We have a modified experience for viewers using ad blockers

Wikia is not accessible if you've made further modifications. Remove the custom ad blocker rule(s) and the page will load as expected.