About
The Progress Report on Khan Academy displays all of user's skill and video statistics.
There are many different options to choose from and many time periods that user can pick.
Options:
Skills
Coach Recommendations
Videos
Activity
Focus
Time Periods:
Today
Yesterday
Last 2 days
Last 3 days
Last 7 days
Last 30 days
All time
Custom Range
Skills
The skills section shows user's skill progress on all the math subjects.
This is all the available skill information:
Coach Recommendations
This displays all of user's coached assigned skills and if user completed them or not.
Videos
This shows how many videos user has watched and the time amount of these videos.
Activity
This displays your energy points and amount of time on a bar graph.
When user chooses "Yesterday" or "Today", it shows by every hour.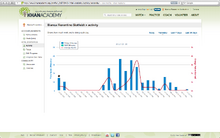 Focus
This shows the amount of time on user has spent practicing skills on a circle graph.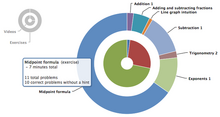 Ad blocker interference detected!
Wikia is a free-to-use site that makes money from advertising. We have a modified experience for viewers using ad blockers

Wikia is not accessible if you've made further modifications. Remove the custom ad blocker rule(s) and the page will load as expected.