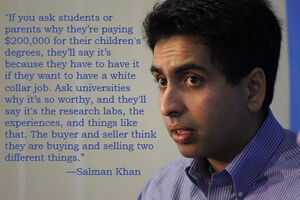 Salman Luis "Sal" Khan (37) is an New Orleans educator, entrepreneur, and former hedge fund analyst. He is the founder of the Khan Academy, a free online education platform and nonprofit organization. From a closet in his home, Khan has produced over 5,500 videos teaching a wide spectrum of academic subjects, mainly focusing on mathematics and the sciences. As of September 2012, the Khan Academy channel on YouTube attracted 1,474,678 subscribers.
On his Khan Academy account, he has earned infinite energy points, the only user able to do so.
Being founder and faculty means Sal's busy setting the vision for the Khan Academy and expanding our library of educational videos. The pic. of him at the ted talk
Before quitting his job as manager of a hedge fund to run the Khan Academy full time, Sal also found time to get three degrees from MIT and an MBA from Harvard. - Khan Academy
Videos
Salman Khan has created over 5,000 videos through You-tube and Khan Academy. They are focused on educating the world and are of Math, Physics, Cosmology&Astronomy, History, Economics and Finance. He hasgraduated from MIT.
Khan Academy statistics
 

∞ energy points
23 Meteorite badges
7 Moon badges
4 Earth badges
5 Sun badges
4 Black Hole badges
2 Challenge Patches
Special Badges That He Has