---
Exceptions
The * next to a user's name indicates that the profile is currently a child account/private account but is being monitored by a moderator via the coach resources. When that user's streak has ended, they will be taken off the list once the moderator sees the streak has been broken.
Update
Every effort will be made to update the leaderboard weekly. If you would like to assist with keeping this list up-to-date by pointing out new profile, please leave a message here.
Rules
If you miss 1 day, then you are taken out of the leaderboard. This rule is in place so it is more competitive.
Deleting your profile will cause you to lose your spot.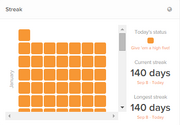 See Also:
Ad blocker interference detected!
Wikia is a free-to-use site that makes money from advertising. We have a modified experience for viewers using ad blockers

Wikia is not accessible if you've made further modifications. Remove the custom ad blocker rule(s) and the page will load as expected.