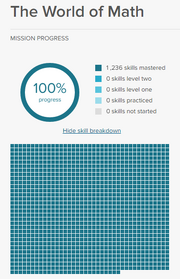 The World of Math
is a Math mission on
Khan Academy
. This mission has the most exercises (1233) and details on the number of skills can be found
here
.
It is divided into even more missions:
K-8th Grade
Fundamentals
Basic geometry Math Mission
High school and beyond
Users can view their progress on this mission on their Learning Dashboard.
A list of previous math exercises that have been removed
This list contains exercises that have been removed for reasons such as removal, splitting previous exercises, or possibly for fixing bugs. As they are re-implemented, they will be removed from this list.
Geometric descriptions of real-world objects
Ad blocker interference detected!
Wikia is a free-to-use site that makes money from advertising. We have a modified experience for viewers using ad blockers

Wikia is not accessible if you've made further modifications. Remove the custom ad blocker rule(s) and the page will load as expected.